France blockades hit 'all' oil refineries as labour dispute hardens
Comments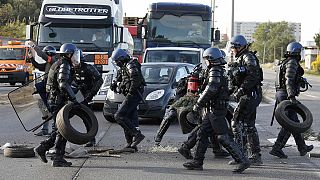 The strike over French labour laws has become more entrenched, amid union claims that all of the country's oil refineries have been affected by blockades.
French oil and gas company Total says it will "seriously consider" its investment plans in France because of the disruption, iTele television reported the group's chief executive as saying.
The government has warned that the action won't be tolerated and that sites will be liberated.
Riot police moved in before dawn to break up a strike picket at Fos-sur-Mer near Marseille, where access had been denied to an Esso refinery and fuel depot.
Tear gas and water cannon were used; both sides reported several slight injuries in scuffles between police and strikers.
"Today the workers are rebelling against this law, doing everything to get it withdrawn as it's a fundamental attack against workers' rights," said CGT union official Maxime Picard.
At least six – all eight according to the CGT – of France's refineries are either on a go-slow or at a standstill. The strikes and blockades are also affecting fuel depots and service stations.
The socialist government is hardening its tone towards the union.
"It's out of the question that the French people find themselves in this situation of shortages, blockades, that our economy is obstructed. The idea of a head-on conflict is old, it's bygone, it's conservative. To take consumers, our economy and our industry hostage like this, to continue actions aimed at having this law revoked is not democratic," French Prime Minister Manuel Valls told Europe 1 Radio.
Reports that as many as a quarter of French petrol stations are empty (or almost empty): https://t.co/cyWTz6Obbmpic.twitter.com/ftDsPuqzIP

— The Local France (@TheLocalFrance) 24 May 2016
The labour reforms aimed at creating jobs by freeing up some of the eurozone's most protective employment rules have brought weeks of protests.
Opponents including the CGT say unravelling the regulations will add to job insecurity in hard economic times.
The dispute has highlighted the battle for influence within the CGT, amid reports that hardliners have got the upper hand.
An updated look at where in France is hit the hardest by fuel shortages: https://t.co/GtJnmVWGagpic.twitter.com/nr2zFeD41Q

— The Local France (@TheLocalFrance) 24 May 2016