Mount Everest claims third fatality in as many days
Comments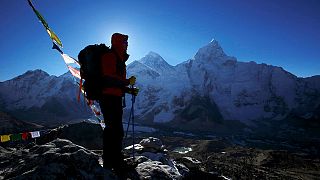 An Indian climber has died on Mount Everest, becoming at least the third person to be killed on the mountain in as many days.
Two other Indian climbers are also reportedly missing.
The latest fatality on Everest follows the death of a Dutch man and Australian woman over the weekend after they suffered altitude sickness.
"Altitude sickness is caused by a lack of oxygen. Your body starts to protest. Quite often it causes a build-up of fluids in your brain or lungs. Those are often the fatal complications," explained Dutch climber Katja Staartjes.
Around 30 climbers have fallen seriously ill or suffered frostbite on the world's highest peak in recent days.
It is the first climbing season on Everest for two years, following the deaths of 16 guides in an avalanche in 2014 and last year's Nepal earthquake.