Ken Loach wins Cannes Palme d'Or for I, Daniel Blake
Comments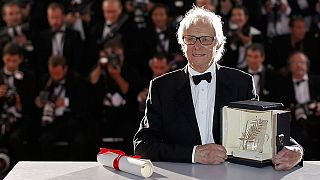 Veteran British film director Ken Loach has won the Palme d'Or at this year's Cannes film Festival.
It's the second time in his prolific career that he has taken best picture award – this one was for his latest social-realist drama, "I,Daniel Blake".
"What is special about Cannes, that it makes the film important. And you saw the presentation tonight. There were so passionate people, passionate about not only about films but films in medium of communicating something," said Loach after receiving the award.
Ken Loach claims second Palme D'Or at Cannes Film Festival https://t.co/oVGLe91jwlpic.twitter.com/9v4Z89vYMT

— Press Association (@PA) May 22, 2016
Seventy-nine year old Loach is one of only nine directors to have won the top prize at Cannes twice. Loach had won in 2006 with "The Wind That Shakes The Barley".

In a surprise tie, Romanian Cristian Mungiu shared the Best Director prize with France's Olivier Assayas for Graduation and Personal Shopper, respectively.
It was Mungiu's third prize at Cannes, after the Palm d'Or he won in 2007 for "4 Months, 3 Weeks and 2 Days", and the Best Screenplay award in 2012 for "Beyond the Hills".
"To be honest, there are so many very good directors that never got a Palme D'or never got an award in Cannes. And they still made wonderful films. That I feel a bit guilty to get so many awards in Cannes," said a modest Cristian Mungiu.
The Grand Prix went to Canadian director Xavier Dolan for Juste la Fin du Monde (It's Just the End of the World).
So finally after ten days and 21 films in competition the 69th Cannes Film Festival has come to an end. Our Reporter Frédéric Ponsard was there.
"This competition has thrown up some unexpected winners, but no one has found anything to complain about a second Palme d'Or award to Ken Loach for I, Daniel Blake – a strong and committed film that defends ordinary people and slams austerity policies. A topical film which shows that the cinema, especially in Cannes, is not just a matter of stars and entertainment."
The awards were as follows:
Palme d'Or
I, Daniel Blake, dir: Ken Loach
Grand Prize
Xavier Dolan, It's Only The End Of The World
Best Director … a tie between Cristian Mungiu, Graduation and Olivier Assayas, Personal Shopper
Best Screenplay
Asghar Farhadi, The Salesman
Best Actress
Jaclyn Jose, Ma'Rosa
Jury Prize
American Honey, dir: Andrea Arnold
Best Actor
Shahab Hosseini, The Salesman
Palme d'Honneur
Jean-Pierre Léaud
Caméra d'Or
Divines, dir: Uda Benyamina
Short Film Palme d'Or
Timecode, dir: Juanjo Gimenez
Special Mention
The Girl Who Danced With The Devil, dir: Joao Paulo Miranda Maria