ISIL targets army recruits in deadly Yemen bombing
Comments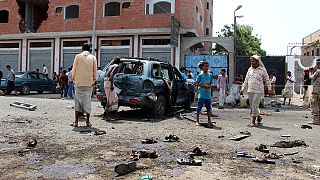 Yemen's government has suffered one its deadliest attacks to date.
Medics say more than 40 people were killed in a suicide car bombing outside the home of a senior army general in Aden as recruits queued to enlist.
ISIL has claimed responsibility for the attack.
In a written statement on its social media accounts, the jihadist group said the attack was targeting "the apostate Yemeni army." It named the bomber as Abu Ali al-Adeni.
At least 60 were injured in the blast in the port city Abd Rabbu Mansour Hadi's administration has designated Yemen's temporary capital, while Sana'a is under Houthi-rebel control.
Unlikely to help stalling UN-brokered peace talks, the bombing followed a similar assault on police recruits in Mukalla just over a week earlier.