Controversial World Humanitarian Summit opens
Comments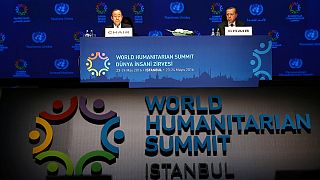 Despite criticism from some NGO's that it is simply 'a fig-leaf of good intentions' the first World Humanitarian Summit has opened in Istanbul. It's aims are ambitious – to revamp the way global aid and assistance works.
The United Nations estimates around 130 million people worldwide require humanitarian assistance, nearly half of those have been displaced by conflict.
Opening the summit UN Secretary General said:
"I urge you to commit to cutting in half the number of internally displaced people by 2030 and to find better long term solutions for refugees and displaced people."
Leaders and delegates from 175 countries are at the two day gathering organised by the UN, but Angela Merkel is only G7 leader in attendance raising questions over how seriously the issue is being taken.
Medical charity Medecins Sans Frontieres (MSF) has refused to go saying the summit will do little to pressure countries that are already violating refugee rights and humanitarian law.
Speaking to euronews from the summit, US singer Michael Franti, said: ''Turkey has 2,7 million refugees living in this country and is spending $10 billion and only has $450 million worth of aid coming from other countries, so I think it's important that all of us recognise how crucial it is today, the need for humanitarian relief."
From the summit in Istanbul, Euronews' Bora Bayraktar said:
"Natural disasters, war, climate change and drought. All have led to the world's worst humanitarian crisis in its recent history. What the participants have been trying to do at this Summit find better ways to deal with these deep seated problems and draw up a road map for aid.''