A handshake, a kiss and a hug at historic meeting of Catholic and Muslim leaders
Comments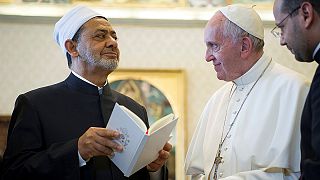 A handshake, a hug and a kiss were exchanged at a historic meeting of Catholic and Muslim leaders at the Vatican.
Pope Francis welcomed the Grand Imam of Al-Azhar, the prestigious Sunni Muslim learning centre, in a clear sign that half a decade of suspended ties between the two religions were over.
They spoke privately for 25 minutes.
The pontiff said the fact that he and Sheik Ahmed el-Tayyib were speaking at all was important. His Cairo-based guest froze communication with the Catholic Church five years earlier when the then-Pope Benedict XVI demanded greater protection for Christians in Egypt. This, after 21 people perished in a bomb attack on a Coptic Christian church in Alexandria.
But fast-forward to 2016 and things appeared much more amicable.