Spain's ex-PM Zapatero calls for national dialogue to ease Venezuela's political crisis
Comments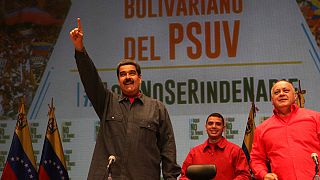 Spain's former Prime Minister Jose Luis Rodriguez Zapatero has called for national dialogue in Venezuela in effort to mediate in the country's spiralling political crisis.
On an official visit to Caracas following talks with the speaker of Venezuela's National Assembly, Zapatero urged caution to work through what he described as a complicated situation.
"We must take all precautions in this attempt to constitute a national dialogue. Any expectations are premature. We must work with a pace that is determined by the difficulty of the situation," the former Spanish premier said.
Faced with an economy in crisis, Venezuela has seen a wave of protests against Nicolas Maduro's rule.
The embattled president and his government have so far ruled out opposition demands for a recall referendum this year to try to remove him from power.
On Friday, Venezuela's Supreme Court also backed a state of emergency decree issued by Maduro last week giving him extra powers.
Meanwhile, the wife of Venezuela's jailed opposition leader Leopoldo Lopez has demanded help for her home country.
Speaking from the Colombian capital Bogota, Lilian Tintori, asked regional countries to urgently donate supplies.
Hit by the world's highest inflation rate, Venezuela's shrinking economy, has seen chronic shortages of medicines and basic food items.