Paris terror suspect Abdeslam refuses to speak before French court
Comments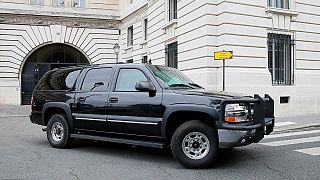 The prime surviving suspect linked to last November's Paris terror attacks has appeared in a French court for the first time – and said nothing.
The hearing in Paris, which was closed to the public, was the first occasion for investigators to question him.
But Salah Abdeslam – under formal investigation on terrorism and murder charges after his extradition from Belgium – refused to speak.
"His promise was to speak about what he did one day, and that's not today. The important thing is that it will happen one day. People can say what they want, that it (the judicial process) isn't quick enough, but he is the one responsible for the timing, for the explanation and for answering the judges' questions. And the important thing is that he does it one day," said Frank Berton, a lawyer representing the suspect.
Abdeslam is thought to have played a key role in planning the attacks, and to have driven bombers to the Stade de France.
"What the victims want is not for him to tell them things, it's to show him what he's done, so he realises the scope of their suffering, and that this is not about vengeance but justice," said Gerard Chemla, a lawyer representing about 75 of the victims, mostly from the Bataclan music venue.
The 26-year-old is being held in a high-security jail at Fleury-Mérogis, south of Paris, in solitary confinement under video surveillance.
His lawyer says the suspect has complained of being spied on, suggesting that the conditions do not encourage him to cooperate with the judicial authorities.
The Belgian-born Frenchman was Europe's most wanted fugitive until he was captured in Brussels in March after a manhunt lasting four months.
The Paris attacks carried out by ISIL militants killed 130 people and injured nearly 370.