Mexico agrees extradition of drug boss 'El Chapo' Guzman to United States
Comments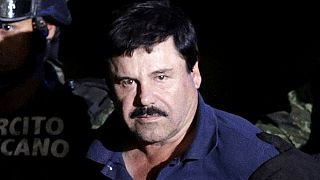 Mexico has agreed to extradite drug kingpin Joaquin "El Chapo" Guzman to the United States where he's facing murder, money laundering and drug smuggling charges.
It's understood authorities cleared the move after receiving assurances that Guzman will not face the death penalty.
Guzman, who was the world's most wanted drug boss until his capture in January, headed the Sinaloa cartel.
Earlier this month, he was transfered from a jail in central Mexico to a facility in Ciudad Juarez on the US border, a move seen as a step closer to extradition.
Mexican authorities say they tracked him down following his meeting with Hollywood actor Sean Penn as he sought to make a movie about his life shortly after his audacious escape through a tunnel from a high-security penitentiary last year.
Before that breakout Guzman had already fled prison, going on the run for more than a decade.