Bolt builds up speed ahead of Rio
Comments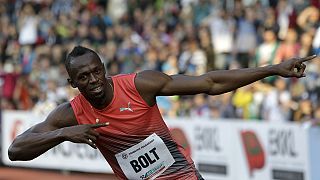 Usain Bolt's famous signature gesture, arm extended shooting for the stars, is one his
olympic rivals will be hoping they do not see this summer, but who can stop the double Olympic sprint champion Usain Bolt?
The Jamaican, making his second start this season, started slowly but looked in better form than his first race, the Cayman International earlier this month, and he broke the 10 second barrier to win.
The field at the Ostrava Golden Spike meeting in the Czech Republic could only gape as Bolt left them standing. In Rio he will be defending Olympic 100, 200 and 4X100 metre relay titles, and world records in the first two.