Turkey's ruling AKP names Binali Yildirim as party leadership candidate
Comments
By
Euronews
with
Reuters, Wall Street Journal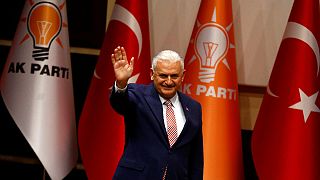 Turkey's ruling AKP has named its candidate for the party leadership, on the 97th anniversary of the start of the Turkish War of Independence.
Transport, Maritime Affairs and Communications Minister Binali Yildirim is tipped for the post. If successful – which seems likely, since he's the only person in the running for the post – he'll also become the country's next prime minister.
Yildirim is a long-time ally of Turkish president and AKP founder, Recep Tayyip Erdogan. The 60-year-old even helped Erdogan to create the party.
#Yildirim wird Ministerpräsident der Türkei pic.twitter.com/CFrXr0Fbvn

— Kostas Koufogiorgos (@Koufogiorgos) 19. Mai 2016
("Mr Yildirim, the new Prime Minister of Turkey")
"Nobody should doubt that we will make every effort to work in full harmony, primarily with our founding chairman and leader and then our colleagues within all ranks of our party, to fulfil the targets of our great Turkey," he told the party.
Erdogan and other key players in the AKP credit Yildirim for his role in carrying out the president's infrastructure strategy. The successful implementation of the projects is widely recognised as having helped boost the economy and the party's popularity.
Yildirim said his priority would be the fight against terror and made it clear that he will stand by a military response to the conflict in the largely Kurdish south east of Turkey. He added that he would disclose a detailed plan for the government on Sunday (May 22).
However, unofficial reports from party insiders suggest his actual first move as premier would be to change the country's system of governance from parliamentary to presidential.
Outgoing Prime Minister Ahmet Davutoglu unexpectedly stepped down on May 4. The move was reportedly due to a growing rift with the president over Erdogan's alleged plan to bolster his own power.