The world is losing the battle against superbugs, according to a new report commissioned by the UK government.
Ten million lives a year and a cumulative 100 trillion US dollars of economic output are at risk by 2050 unless the world takes action against the rise in antibacterial resistance, says the Review on Antimicrobial Resistance.
At present we are losing 700,000 people every year to resistant infections, it says.
Antibiotics are a special category of antimicrobial drugs that are the basis for modern medicine. With lessening effectiveness, everyday procedures, such as caesarean sections, joint replacements and treatments that depress the immune system, such as chemotherapy, would become too dangerous.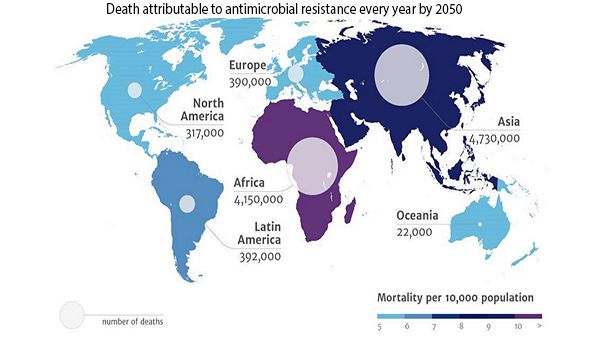 The report says the problem cannot be solved on a national level and policymakers will require "a critical mass of countries behind them if they are to make a difference".
It says: "To stop the global rise of drug-resistant infections, there is a supply and demand problem that needs to be fixed. The supply of new medicines is insufficient to keep up with the increase in drug resistance as older medicines are used more widely and microbes evolve to resist them."
It is calling for an overhaul of the way in which antibiotics are consumed and prescribed, to keep them working until new ones come online.
It says we will need:
• A massive global public awareness campaign
• To improve hygiene and prevent the spread of infection
• To reduce unnecessary use of antimicrobials in agriculture and their dissemination into the environment
• To improve global surveillance of drug resistance and antimicrobial consumption in humans and animals
• To promote new, rapid diagnostics to cut unnecessary use of antibiotics