Nigeria: army says second schoolgirl freed from Boko Haram
Comments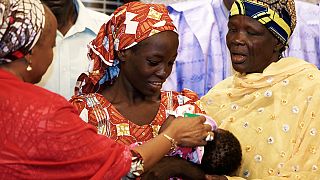 The Nigerian army says a second girl has been rescued after being kidnapped in a school raid by Boko Haram militants more than two years ago.
Army spokesman Sani USMan released the information in a message carried by PR Nigeria, which releases government statements.
The news came on the day Amina Ali, whose miraculous escape from Boko Haram in northern Nigeria has raised hopes for the release of a group of some 200 schoolgirls kidnapped by the Islamic militants in April 2014, met with Nigeria's president.
Amina was raped repeatedly and had a child with a Boko Haram commander until she was found near Damboa with her four-month-old daughter.
She may have been able to give the authorities valuable information about where the other girls are, or how Boko Haram operates. But her greatest value, insisted President Muhammadu Buhari, is as an example.
"The continuation of Amina's education so abruptly disrupted will definitely be a priority of the federal government. Amina must be able to go back to school," he said, promising his government would do all it could to free her classmates.
In Amina's northern home state, Borno, 29% of girls go to secondary school compared with the national average of 53%. She has two siblings, but 11 others died before they were six.
On average Nigerian women have six children, and the country has one of the worst death in childbirth rates in the world. About 43% of women aged 20-24 are married or in a union by age 18.
Boko Haram militants have killed an estimated 15,000 people and kidnapped hundreds of men, women and children in their six-year campaign to carve out a mediaeval Islamic caliphate in northeast Nigeria.
The kidnapping of the girls from their school in the town of Chibok in April 2014 unleashed a wave of international outrage.