NBA: Golden State level Western Conference final
Comments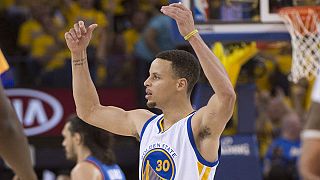 Having lost their Western Conference Finals opener against underdogs Oklahoma City Thunder, the record breaking Golden State Warriors bounced back in emphatic style to level the best of seven series at one apiece following game two.
The Warriors – who posted a record 73 regular season victories – were in confident mood on home court and were up 57-49 at halftime.
The writing was already on the wall.
Two time reigning MVP Steph Curry scored 15 straight points in less than 2 minutes during a stunning third-quarter stretch.
Curry ended the night with 28 points, making 5 of 8 3-pointers and shooting 9 for 15 overall.
Klay Thompson chipped in with 15 points for the defending NBA champions.
Kevin Durant hit a game high 29 points for Oklahoma but it wasn't enough as Golden State romped to a 115 to 91 victory.
Game 3 takes place on Sunday night in Oklahoma City.