Italian political cause-fighter Marco Pannella dies
Comments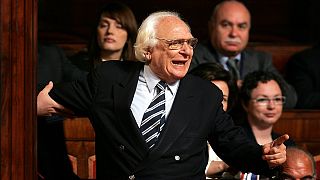 Firebrand former Italian Radical Party leader Marco Pannella has died at the age of 86.
His party reported his passing, after Radical Radio reported he had been hospitalised a day earlier, allegedly in a serious condition.
Known for his hunger strikes, Pannella rose to fame in the 1960s and 70s. He was at the forefront of postwar campaigns to legalise divorce, abortion, the right to die, the legalisation of marijuana and other social change in staunchly Catholic Italy.
The Radical Party founder was said to have been instrumental in promoting some 110 referenda during his political career.
He fought many of these battles alongside the equally principled former Foreign Minister, Emma Bonino. He appeared to delight in pulling the establishment's tail, and would never shy away from shocking his public, notably with his marriage and tempestuous relationship with "La Cicciolina", a Hungarian porn star who ended up elected to the Italian parliament and campaigning alongside Pannella when she wasn't shocking TV audiences. They eventually divorced.
Current Prime Minister Matteo Renzi hailed him as a "courageous lion of freedom," whose death moved the whole country.