France PM Valls condemns violence during labour law protests
Comments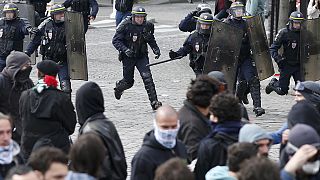 Thursday's latest protests against France's controversial labour reforms drew the most wildly varying turnout estimates yet: 90,000 in Marseille according to the organisers, 3,500 said the police.
In Paris too, 100,000 demonstrators said the CGT, a main union; no more than 14,000 said the police.
The changes are designed to free up the labour market and reduce chronic unemployment levels. President François Hollande said he had no plans to withdrawn reforms aimed at making hiring and firing easier – and thus encourage firms to recruit.
But the protesters see only more insecurity.
Demo against the #LoiTravail (labour law) in Paris #manif19maipic.twitter.com/8UiDzbUelL

— Global NuitDebout (@GlobalDebout) 19 May 2016
One pensioner marching in Marseille had a message for the French president, prime minister, and the finance and employment ministers.
"Mr Hollande, with your running mates, Mr Valls, Mr Macron and Mrs El-Khomri: if you don't want a revolution, you'd better put the labour reform back in the cupboard."
The gap between the government and protesters remains just as wide.
"Things continue to advance with the law; the bill is still going ahead, the 49.3 is still there," said Antoine, a young protester in Paris, referring to the constitutional measure which has enabled the government to bypass parliament. "They haven't changed their minds and neither have we. And it's not bad."
Thursday brought a second consecutive day of strikes. Truck drivers continued to blockade strategic parts of the road network and train services were reduced by more than 50 percent.
The protests also resulted in more scuffles. Police said they arrested 115 people, including 19 individuals seeking to tamper with the subway train network in Rennes and 66 in Nantes, both hotspots in western France.
#France Clashes with riot police during a demonstration against #LoiTravail in #Nantes#AFP Photo by JSEvrard</a> <a href="https://t.co/XOhZPbJ93O">pic.twitter.com/XOhZPbJ93O</a></p>&mdash; Aurelia BAILLY (AureliaBAILLY) 19 May 2016
The government says weeks of protests have brought around 1,300 arrests.
Some reports suggest although most demonstrators are peaceful, a significant number have some sympathy for the troublemakers (article in French).
Riot police, who have repeatedly clashed with masked youths hurling petrol bombs and paving stones, staged their own protest on Wednesday to highlight what they described as a surge of 'anti-cop hatred'.
Many demonstrators have also been motivated by cases of police violence, adding to their anger over the labour law reforms.
#France: Protests today in #Paris against police violence. #manif19mai#ViolencesPolicieres#NuitDebout#LoiTravailpic.twitter.com/cRgsfhNRJb

— ѕyndιcalιѕт (@syndicalisms) 19 May 2016
Prime Minister Manuel Valls urged union leaders to call off protests, saying turnout was waning but violence mounting as some people were hijacking legitimate demonstrations to attack police. He added that attempts to cut off oil refineries and food supply depots could not be tolerated for much longer.
Recent opinion polls suggest the violent scenes mean public support for the protest movement is beginning to wither (article in French).