Europa League: Sevilla maintain Spainish club's dominance of European football
Comments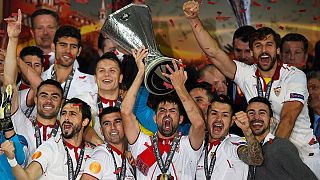 FC Sevilla and their fans woke up on Thursday morning all smiles after the club won a record breaking third consecutive Europa League title.
Kevin Gameiro hit once for the Spaniards and Coke scored a brace as Unai Emery's men came back to beat Liverpool 3-1 in Basel for the club's record-extending 5th crown in the competition.
With the victory Sevilla have booked themselves a direct spot in next season's Champions League group stage.
After the win Emery said: "Sevilla fans and the club love this competition. And we want it so much, we desire it so much that at the end, we got it. And we're very happy about that and it's our competition and we are the champions once again. The Champions League is an opportunity to grow."
It was Liverpool's second final defeat this campaign after losing to Manchester City in the Capital One Cup in February while for coach Jurgen Klopp it was a fifth final upset in six.
Klopp tried to remain optimistic for the future and said: "I'm not sure I have a good answer but I believe I will try all I have to reach the next final even when I know that you can lose it, so it's like it is. There are bigger problems in life but in this moment to be honest, it doesn't feel like this. It's really hard."
While it was a little bit of doom and gloom in the Reds' camp it was party time in Sevilla where thousands of fans poured onto the streets to celebrate their club's latest piece of silverware.
The Spanish returned home later that night having now won the competition five times in the past ten years.
With Real Madrid and Atletico Madrid set to meet in next weekend's Champions League final, Spanish clubs will have won both European competitions for each of the last three seasons.