Watch this space as Merkel pulls out of ESA project announcement
Comments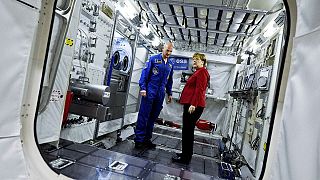 German Chancellor Angela Merkel surprised the press on Wednesday when she abandoned a flagged major announcement on international space co-operation while visiting the European Astronaut Centre in Cologne.
Instead she voiced general support for international collaboration in space on manned missions.
"Crewed spaceflight gives us the opportunity to explore specific issues in conditions of zero gravity starting with technical alloys, medical experiments and many other things," said the former physicist.
However Merkel did confirm that ESA's German astronaut Alexander Gerst is going to space again on another mission and will be commanding the ISS at some point.
Putting people in space was vital to maintain public interest said the boss of the European Space Agency.
"The inspiration is especially being expressed by the astronauts. When they report from space as our correspondents, it`s a thrill for people of all age groups and this also has an effect on society," maintained ESA's Director-General Johann-Dietrich Woerner.
Space is certainly far too big a nut to crack for one nation, and existing examples of international co-operation, like the ISS, have delivered success.