Trump slammed over suggested North Korea talks
Comments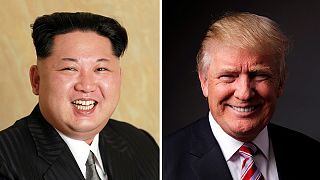 Republican presidential candidate Donald Trump has caused a stir once again. This time he has declared he is willing to to talk to North Korean leader Kim Jong Un to discuss Pyongyang's nuclear programme.
I would speak to him [Kim Jong-un], I would have no problems speaking to him.

US presidential candidate
The proposed meeting would mark a significant change of US policy towards the politically isolated regime.
North Korea first tested nuclear weapons in 2006, in breach of international agreements, and has made repeated threats of nuclear strikes against South Korea and the US.
Currently, any contact between with the US happens between officials, not at a presidential level.
"I would speak to him, I would have no problems speaking to him, at the same time I would put a lot of pressure on China because economically we have tremendous power over China.
China can solve that problem with one meeting or one phone call," said Trump.
An advisor to Hillary Clinton, the leading Democratic presidential candidate, criticised Trump saying his approach to foreign policy makes "no sense".
Being president isn't like being on a reality show.

We can't afford a candidate who treats it like one. https://t.co/48MePwjHh9

— Hillary Clinton (@HillaryClinton) May 17, 2016
Trump's comments about North Korea emerged in an interview with Reuters news agency in which he also expressed disapproval of Russian President Vladimir Putin's military actions in eastern Ukraine.
Putin is a figure who Trump has previously said he respects.
Billionaire Donald Trump will be formally made the Republican party presidential candidate at a convention in July.