Suspect 'bomb' at Manchester Utd. was training device
Comments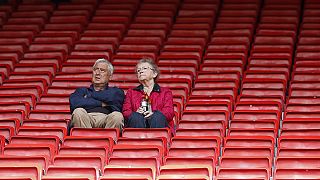 A suspicious package which prompted the evacuation of Manchester United's football stadium (Old Trafford) on Sunday has been identified as a training device, according to police.
Its discovery forced the club's Premier League match against Bournemouth to be abandoned.
It is believed the device which was earlier described as "lifelike but not viable" had been accidently left behind by a private company during a training exercise.
Incident at Old Trafford with fans having to evacuate the stadium! #MUFCpic.twitter.com/bOz0mmrtDv

— Dave O'Grady (@DaveOGrady1) May 15, 2016
The stadium, which can seat 75,000 people, was evacuated 20 minutes before the scheduled kick off.
Greater Manchester's Mayor and Police and Crime Commissioner Tony Lloyd called the situation "unacceptable" and a "fiasco" putting supporters in danger as evacuating thousands of people is not without risk
The Premier League match has been rearranged for Tuesday.
United will be refunding all tickets and allowing ticket holders from both clubs in for free on Tuesday night. Manchester United season ticket holders will also be given a credit.
It is estimated this gesture will cost United around three million pounds (3.8 million euros).