Rio's mayor says Zika 'not a big issue' ahead of Olympics
Comments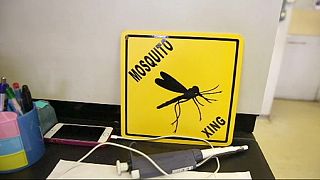 With this year's Olympic Games just around the corner, Rio de Janeiro's mayor is trying to dampen down fears over the Zika virus.
Eduardo Paes says visitors to the global sporting spectacle will be safe.
But health officials disagree, saying the mosquito-born virus does pose a threat.
"It's not a big issue. You've got to come, you can come, enjoy – it's the time of the year that's the, it's our winter and it's never cold," said Paes.
"And I know the British, they will love Rio as they did in the (football) World Cup."
According to scientific evidence, Zika can can cause birth defects in newborns.
One expectant mother said she knows people with the virus.
"There are people with Zika everywhere – in my building, at my work, in my family. We know several and we're a few kilometres from the Olympic park," said Michele Camargo Moraes.
"It's impossible the mayor doesn't know anyone who's had it. We don't have any proof we can be calm."
According to reports, US scientists have cloned the Zika virus, amid frantic efforts to develop a vaccine.
But a jab seems a long way off and pregnant women are being advised against travelling to infected areas.