Libya coast guard rescues more than 100 migrants from Africa
Comments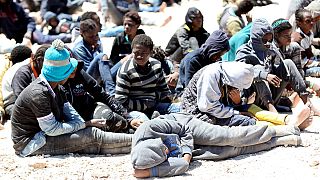 Libya's coast guard said it intercepted a dinghy carrying more than 100 African migrants on Monday (May 16).
Matza Samwe, a migrant from Nigeria, said she paid the equivalent 2,000 euros for the journey.
"I know people die in this sea, but I know my case would be different, I know I would succeed," he said.
"I want to go to Europe because of the fighting in my hometown," said Tarsen, a migrant from Ghana, "so I tried to escape and come here and want to go to Europe to secure my life."
The UN refugee agency (UNHCR)says nearly 1,000 people have been rescued over the past few days in the Mediterranean Sea, including unaccompanied children.
The International Organization for Migration (IOM) says earlier this month, more than 100 people are believed to have died in four shipwrecks between Italy and Libya, becoming the preferred sea route for migrants to Europe.