European cinema dominates Cannes
Comments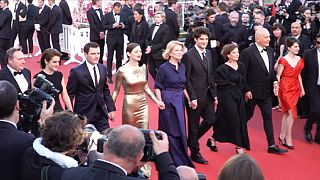 European movie power was on show over the weekend at the Cannes Film Festival. French director Nicole Garcia premiered her 1950s-set From The Land Of The Moon or its other title Mal de Pierres, starring Oscar winning actress Marion Cotillard.
Marion Cotillard in 'From the Land of the Moon' ('Mal de pierres'): Cannes Review https://t.co/Zgqy00bbnhpic.twitter.com/fWJFCC8ovQ

— Hollywood Reporter (@THR) May 15, 2016
The film is about a woman caught between a loveless, provincial arranged marriage and a passionate, impossible affair.
Reporting for euronews from Cannes, Frédéric Ponsard said:
"France is, as usual, very well represented again this year, with four films in competition. But what is even more remarkable is the vitality of Europe with no less than 13 films of the 21 in contention for the Palme d'Or, from Germany, Romania, Spain, Denmark and the United Kingdom".
In fact it's been eight years since German cinema was last represented in the festival's main competition. Director Maren Ade is putting that right with the film "Toni Erdmann" which received an ecstatic ovation from the Cannes audience. Its a bitter sweet comedy about a father and his estranged adult daughter.
Cannes: Sony Classics Buys Festival Sensation 'Toni Erdmann' https://t.co/G4UHxqHjZ9pic.twitter.com/kP00v7BvIn

— TheWrap (@TheWrap) May 15, 2016