"Equine extravaganza" as 900 horses join in Queen's 90th birthday celebrations
Comments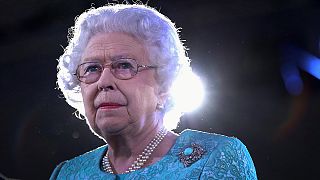 Britain's Queen Elizabeth has attended a lavish pageant in the grounds of Windsor Castle (near London) as part of her 90th birthday celebrations.
Equestrian displays – 900 horses took part – international dancing troupes, and a humongous birthday cake were all part of the festivities, staged for the enjoyment of country's longest reigning monarch and her family.
Prince Edward, Lady Louise, Princess Anne & (birthday girl) Zara Tindall join the parade #Queens90thBirthdaypic.twitter.com/i9dACNQt0P

— British Royals (@britishroyals) May 15, 2016
There was also regimental marching, gun salutes, pop music and historical clips all outlining an ABC of the Queen's life history.
While republicans may question the future of Britain's monarchy, the popularity of Queen Elizabeth among the majority of her subjects is in no doubt.
Earlier on Sunday members of the public celebrated along with her in Windsor Great Park.
"I can remember seeing the Coronation, I can remember seeing Prince Charles and Princess Diana's wedding, it's just lovely to be in another occasion with the Queen being 90," said
one woman.
"The Queen is fantastic and I want to be here to celebrate, it's fantastic and I think everybody embraces everyone, how fantastic. So Windsor we are proud, very proud and I'm having the best time of my life," said another.
Reporting for euronews from Windsor Great Park, Andrea Bolitho, said:
"She turned 90 in April, hosted a star-studded celebration in May and in June the Queen's birthday celebrations will conclude with a giant picnic in front of Buckingham Palace and street parties up and down the country."
Kate, William & Harry at the Queen's 90th birthday celebration at Windsor #HMQ90#Queens90thBirthdaypic.twitter.com/Eu2fGhRN9r

— British Royals (@britishroyals) May 15, 2016