Colombian child soldiers to be removed from FARC rebel ranks
Comments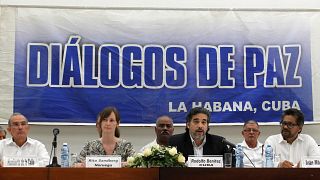 The Colombian government has agreed a plan to reintegrate child soldiers from the Revolutionary Armed Forces of Colombia, or FARC, into society.
The rebel group said last year it would stop recruiting minors.
This move will apply to those already in its ranks.
"Three important measures have been announced," Chief Colombian government negotiator Humbero de la Calle told reporters. "The departure of minors less than 15 years of age from the camps, the progressive cutting of ties for minors less than 18 years of age and the creation of an programme to offer close attention to these children leaving the war."
It is a first step towards all minors leaving the ranks of the FARC rebels. Peace negotiations have been ongoing for more than three years.
"We have agreed with the national government that these minors cannot be prosecuted and that, as victims of an immense social and political drama, they will be treated as such and never as criminals," said the chief FARC negotiator Ivan Marquez.
A March deadline for ending five decades of armed conflict was missed because disagreements remained.
The fighting has cost the lives of 220,000 people and displaced millions.