Manchester Utd: Police carry out controlled explosion at Old Trafford
Comments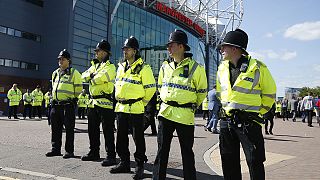 A bomb disposal team has carried out a controlled explosion on a suspect package that was found at Manchester United's Old Trafford Stadium.
The object was found as the Red Devils were set to play their final league game of the season against Bournemouth.
Both the Sir Alex Ferguson and Stretford stands were evacuated before the game and sniffer dogs brought in.
The referee was informed and it was initially hoped that the match would be played after a 45-minute delay.
Eventually officials abandoned the game and 20,000 fans were evacuated from the stadium before the device was made safe.