Taliban claim suicide bombing outside Afghan police academy
Comments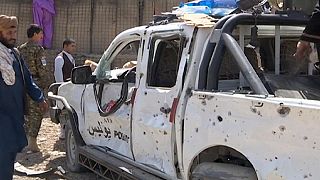 A suicide bombing at a police training centre in southern Afghanistan on Saturday (May 14) killed several policemen and wounded a dozen people, including children.
The Taliban have claimed responsibility for the attack.
According to reports, the suicide bomber detonated a car packed with explosives just outside the police academy.
Spanish news agency EFE reported at least four Afghan policemen, one civilian and the bomber were killed.
The attack happened in Nad Ali district, in Helmand province, a poppy-growing region that the Taliban seek to control, opium being their main source of income.
The militants, in their 15th year of war against the Afghan government, often use roadside bombs and suicide attacks against security forces.
Military experts estimate up to a third of Afghanistan is at risk of falling under the Taliban's control.
The conflict has killed or wounded 2,000 civilians so far this year and displaced 80,000 according to the United Nations.