Russia: three dead after mass ethnic brawl at Moscow cemetery
Comments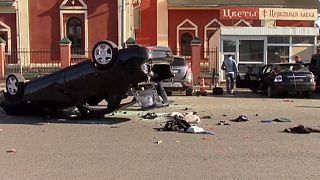 A large black car lay upturned in the street. The windows of others parked nearby had all been smashed.
A body covered by a black plastic sheet lay on the ground.
This was the aftermath of a mass brawl at a Moscow cemetery between rival ethnic groups apparently battling for control of the burial business.
The violence left three people dead and nearly two dozen in hospital, four of them seriously injured.
An estimated 200 people took part in the clashes, weighing in with iron bars and baseball bats.
Police said two of those who died were hit by a car trying to flee the scene. The fight was broken up by riot police who then made around 90 arrests.
A cemetery official's been quoted as saying people from Russia's North Caucasus regions of Chechnya and Dagestan had attacked migrants from Uzbekistan and Tajikistan working there, attempting to take over their jobs.
Russia's depressed economy leaves migrants struggling to find work, with ethnic criminal groups adding to the tensions.