Turkish soldiers, PKK militants die in clashes after latest bombing
Comments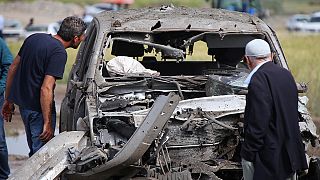 Eight Turkish soldiers and 21 militants of the outlawed Kurdistan Workers Party (PKK) were killed on Friday (May 13), according to the military and media reports, a day after yet another explosion rocked the country's mainly Kurdish southeast.
Four suspected bomb makers were killed and 17 people wounded in the explosion that rocked a village in the Sarikamis district on Thursday night, according to officials. Two of those wounded were said to be a in a critical condition.
The Turkish Interior Ministry said it happened as militants from the outlawed Kurdistan Workers Party (or PKK) were loading explosives onto a truck that they planned to use for an attack on security forces.
4 suspected bombmakers killed in Turkey as they loaded explosives on to truck https://t.co/y0fmH4Lk9Epic.twitter.com/vB81qu9dba

— The Telegraph (@Telegraph) May 13, 2016
The blast was heard from the region's biggest city of Diyarbakir, 25 kilometres away, and sparked more deadly clashes between soldiers and PKK militants in the nearby provinces of Hakkari and Sirnak.
It followed a car bomb attack near a military facility earlier in the day in an Istanbul suburb that wounded seven people, and a car bombing in Diyarbakir on Tuesday (May 10) that targeted police and killed three people.
Four Kurdish rebels killed while loading explosives in southeast Turkey, hours after fatal Istanbul car bomb: https://t.co/j0kMaadwcj

— The Associated Press (@AP) May 12, 2016
Since a ceasefire between the PKK and the government collapsed last July, Turkey's southeast has seen some of its worst violence in twenty years. The conflict has killed more than 40,000 people to date.