Judo: Almaty matters for Rio qualifying hopefuls
Comments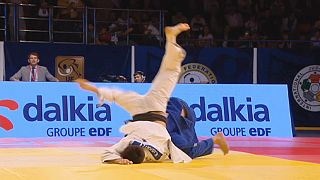 Many believe Friday 13th is unlucky but it turned out to be full of good fortune for a number of competitors on the first day of the Almaty Grand Prix, the last open qualification event for the Rio Olympics.
The women's -48kilo category was first on the mat and in the end Kazakhstan's Otgontsetseg Galbadrakh defeated South Korea's Jeong Bo in a tight match decided by shido penalties. The victory booking the world number three ticket to Rio.
Galbadrakh has now medalled in all seven of her events this year including gold at the Paris Grand Slam.
Japan's Joshiro Maruyama made light work of the rest of the field in the -66kg class. Making his Grand Slam debut he won all five of his contests to capture an impressive gold medal.
In the final he beat Kazakhstan's Zhansay Smagulov with a uchi-mata – a technique shared by his older brother, and more famously by his coach in Almaty – for a yuko; the only time the scoreboard was called upon in the bout.
Former Paris Grand Slam silver medalist Evelyne Tschopp was on the biggest winners of the day as she defeated Baku Grand Slam champion Gili Cohen in the -52kg.
The Swiss outsider belied her 24th placed position on the Olympic qualification list and took the title from her Israeli counterpart with a kesa-gatame hold for 20 seconds.
Finally, in the women's -57 kg category Poland's Arleta Podolak defeated Spain's Jaione Equisoain with a display of power and precision to win gold by ippon.
Attack of the day
A perfectly executed ippon by France's Automne Pavia against Emilie Amaron of Switzerland in the 2nd round of the -57k
Surprise move of the day
Elios Manzi, 20-year-old Italian who won in the -60k. His first ever podium at this level.