Honda reveals Q4 loss from airbag recall costs
Comments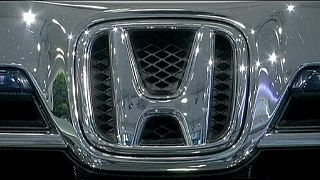 Honda has revealed a surprise net loss for the fourth quarter of 93.4 billion yen (756 million euros).
A big chunk of that was due to what are called quality-related costs – mostly recalls to replace airbag inflators in as many as 21 million vehicles.
Takata, the company that makes the airbags, has been blamed for at least 11 deaths, mostly involving Honda cars as it is Takata's biggest customer.
The problem is that the inflators can deploy with too much force spraying metal shrapnel inside a vehicle.
The carmaker said it set aside four times as much for recalls in the last business year as it did in the year before.
Nevertheless, Honda – which is Japan's third largest carmaker – is still forecasting a 13.2 percent rise in net profit for the current year as brisk global sales are expected to offset the negative impact of a stronger yen.