The conflict in Ukraine between its army and pro-Russian rebels
Comments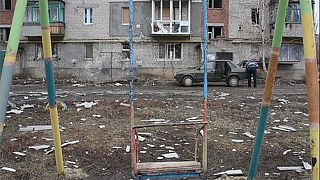 Since April 2014 Ukraine has been in conflict. Its army has been fighting pro-Russian rebels. The clashes have left nearly 9,300 dead and over 1.5 million displaced.
It began when the then-President Viktor Yanukovic – who was traditionally close to the Moscow power base – backed out of an agreement between Ukraine and Europe.
The decision sparked unrest which resulted in fighting in 2014 between protesters and security forces in Kyiv. Around one hundred people died.
With backing from the West it was decided to hold early presidential elections. The flight of Yanukovic sped up the process.
An interim government was installed. Russian President Vladimir Putin declared it a coup and reserved Moscow's right to use all available options including the use of force as a last resort.
On March 16 Russia regained control of Crimea. That was after a referendum had been held on self-determination in the peninsula.
The fate of Crimea rang bells with pro-Russian partisans and to the east in the border regions of Luhansk and Donetsk other self-determination referendums were organised too.
Petro Poroshenko was elected president on May 25 and without losing any time intervened to prevent the two regions following the lead of Crimea.
The fighting intensified and spread. Deadly battles were fought around Soviansk and Donetsk airport to name just two areas. Donetsk, the biggest city in eastern Ukraine was badly hit.
The scattered remains of Malaysia Airlines flight 17 in eastern Ukraine added a new dimension to the conflict. The scheduled international passenger flight from Amsterdam to Kuala Lumpur was shot down killing all 283 passenger and 15 crew on board.
Western powers implemented new sanctions against Russia. It was an iron fist in a velvet glove as they also redoubled their efforts to find common ground between Putin and Poroshenko.
That came to fruition in Belarus in Minsk where a ceasefire was negotiated. But it was not respected. Five months later Minsk II as it was known was agreed but it proved to be a fragile ceasefire.
Since then there have been frequent reports of outbreaks of fighting along the front line. As has been the short history of this conflict it has been civilians who have been the first to suffer.