Ukraine marks two years since Maidan
Comments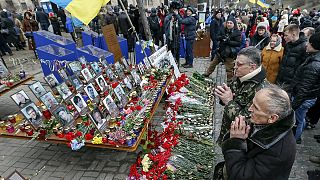 Thousands gather in Maidan
Victims given national honour
Ukraine still in the grip of political turmoil
Thousands of people have gathered in Independence Square in central Kiev.
They are here to mark two years since the Maidan uprising that toppled Ukrainian President Viktor Yanukovich.
Today we honour the memory of those who gave their lives to build free&democratic #Ukraine! Glory to Heroes! #Maidanpic.twitter.com/jJ1jx7TTqQ

— Oleh Kuts (@OlehKuts) February 20, 2016
Today I join Ukraine in honoring #Maidan heroes,who 2yrs ago paid ultimate price 4freedom. For our #freedom & yours! pic.twitter.com/YSyU8B3iWR

— Linas Linkevicius (@LinkeviciusL) February 19, 2016
Two years today since the brutal killings by the Yanukovich regime on the Maidan in Kiev. We remember. pic.twitter.com/CBlKuwiK6d

— Carl Bildt (@carlbildt) February 20, 2016
More than 100 protesters died in the unrest.
The Maidan movement started as a protest against the president's rejection of a trade agreement with the European Union.
People remember #EuroMaidan as Beams of Dignity light up: Check out photogallery: #Maidanhttps://t.co/ZhYKwj45iApic.twitter.com/pZfW2ohFsY

— Kyiv Post (@KyivPost) February 20, 2016
Current President Petro Poroshenko and his wife placed candles at the memorial.
The title of Hero of Ukraine is being bestowed on each person who lost their life.
Ukraine still riven by strife
A few fires are being lit on #Kiev's #Maidan square. Some say they will spend night there in new anti-govt protest. pic.twitter.com/XGYvLCBnYj

— Dan McLaughlin (@DanMcL99) February 20, 2016
The two years since Maidan have been marked by turmoil for Ukraine.
Pro-russian Yanukovich regime falls in February 2014
Russian annexes Crimea the following month
The ensuing armed conflict in the east of the country has claimed at least 9000 lives so far
Commentators describe Ukraine as dogged by inflation and corruption.
Ongoing political crisis
The government of Ukraine has just survived a no-confidence vote.
President Poroshenko had asked Prime Minister Arseniy Yatsenyuk to step down.
Yatsenyuk faces allegations of corruption and has been criticised for the slow pace of reform.
What they are saying
"This year, I could not even afford to buy myself a bottle of sparkling wine to celebrate New Year. Those in power continue to rob us." – 63-year-old protestor Kateryna Chevtchenko
*My hopes for the fight against corruption have not been satisfied. But I am pleased that people are more motivated since Maidan" – student Konstantin Levitski
"After Maidan, ukrainian society knows that there is no door that cannot be opened." – lawyer Roman Masselko
"The Maidan revolution is not over. It is in our souls, in our children's souls." – Kiev resident Larya Iskantseva.