Oil production resumes in fire-hit Fort McMurray
Comments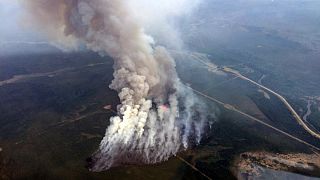 Operations slowly resume
Fire continues to spread
Thousands remain in temporary accommodation
PM Trudeau to visit on Friday
What is happening?
Oil sands companies around the Canadian energy centre of Fort McMurray are restarting operations.
We can take small steps to getting back the rhythm of northeast Alberta
The re-start comes after an out-of-control wildfire forced a week-long shutdown.
Facilities north of Fort McMurray that were shut down largely due to heavy smoke could be back on line in days.
Canadian oil sands begin to resume production https://t.co/xLjEfeIVcd$RDS.A$RDS.B$ENB$SU

— Bill Law بيل لو (@BillLaw49) May 11, 2016
Royal Dutch Shell Plc was the first to resume operations. Enbridge Inc has begun inspecting its sites.
The movement of some goods and materials by road through Fort McMurray has also resumed.
Is the fire still spreading?
Yes.
Blaze grew "moderately"on Tuesday to 229,000 hectares
Spread east through uninhabited terrain
Merged with another fire 50km east of Fort McMurray
Officials say the wildfire is away from the area's largest oil production facilities and into more sparsely-populated areas.
A handful of smaller sites are still under threat. Some cannot yet be accessed for damage to be assessed.
Is it safe to go back to Fort McMurray?
Not yet.
The 88,000 residents who were evacuated from their homes last week will not be able to return for weeks.
"They will be rebuilt": #Alberta counts the cost of the damage caused by the huge #wildfires in #Canadahttps://t.co/BgjG3qmxQ7

— Sky News (@SkyNews) May 10, 2016
An inspection of the town shows entire blocks of dwellings reduced to their blackened foundations.
Officials say 2,400 structures have been completely destroyed. 25,000 have been saved.
Parts of the town are still smouldering. Large areas are without power, water and gas.
Is there any support available for the people affected?
Yes.
Canada's Labour Minister says the federal government will make sure that those left out of work will get the full range of benefits they are entitled to.
Those fighting the Fort McMurray fires are heroes. The evacuees' courage is an inspiration. I will be visiting the area on Friday. #ymmfire

— Justin Trudeau (@JustinTrudeau) May 10, 2016
Prime Minister Justin Trudeau is due in Fort McMurray on Friday.
Fort McMurray evacuees caught in uneasy limbo week after wildfires https://t.co/B4rTeZVbN9

— The Guardian (@guardian) May 11, 2016
Some say it is not before time.
"He should be here to support fellow Canadians in our time of need. He went above and beyond for Syrian refugees. And I think he should do the same efforts for us," said evacuee Kim Crant.
What they are saying
"While thousands of lives will never be the same, we can take small steps to getting back the rhythm of northeast Alberta," Alberta Premier Rachel Notley told reporters after a meeting with oil executives.
"We have a huge capability for moving significant numbers of people," Suncor Chief Executive Steve Williams says gathering a workforce will not be a problem, despite last week's mass evacuation.