Galaxy of stars descend on Cannes for 69th Film Festival
Comments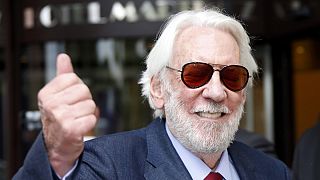 Cannes is set to open the doors on its 69th Film Festival with enough stars to rival the Milky Way.
Riding in on a wave of Oscar victories is Australian director George Miller of Mad Max fame, who is heading up the jury which this year includes Kirsten Dunst, Valeria Golino, Mads Mikkelsen, Vanessa Paradis, Katayoon Shahabi and Donald Sutherland.
Expectations as always are high for the festival which aims to strike a balance between Hollywood glitz and cinematic grit.
#Cannes2016 Close-up on the Festival_Cannes</a> Palme d&#39;Or trophy <a href="https://t.co/mNtIJlgEhI">https://t.co/mNtIJlgEhI</a></p>&mdash; AFP Entertainment (AFPceleb) May 10, 2016
Several veteran filmmakers will be vying for the festival's top prize, the Palme d'Or, but for non-film buffs the main action will take place on the red carpet.
"The more stars the better, the more stars the better for the festival," explained Variety film critic Jay Weissberg. "I am not saying it is better for the journalists, it is not better for the critics; it creates more of an annoyance if you want to say. Just getting past security, going down the street it becomes really enervating. However obviously the more stars the more press, the more press, the more sponsorship, the more sponsorship, the more money. More stars are always better."
Opening the Festival can often be hit or miss for directors hoping to make a splash. This year it's the turn of prolific writer and director Woody Allen. Steering away from European city romances, this time he looked to 1930s Hollywood for inspiration with the comedy 'Cafe Society' starring Kristen Stewart and Jesse Eisenberg.
The US Trailer for CafeSocietyFilm</a> has made it&#39;s debut just in time for the film&#39;s premiere at the <a href="https://twitter.com/Festival_Cannes">Festival_Canneshttps://t.co/iJ4Lrq9ih8

— Amazon Studios (@AmazonStudios) May 10, 2016
It's not only stars attracted to the Cote d'Azur, but teenagers looking for a way into the star-studded premieres.
These teens dress in formal attire and hope for tickets to Cannes: https://t.co/9RWwRRONhepic.twitter.com/xI623rWCbg

— Slate (@Slate) May 10, 2016