Cannes is abuzz at the opening of the 69th Film Festival
Comments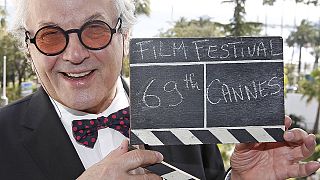 It is D-Day for the Cannes Film Festival. Tonight (May 11), Woody Allen will open the official selection for a record third time. Some 21 candidates are competing for the Palme d'Or, hundreds of films are being shown from all categories and tens of thousands of professionals are there from all over the world.
Let's go ! First #Photocall#Cannes2016 CAFÉ SOCIETY by WOODY ALLEN pic.twitter.com/qlrDrQAn8I

— Festival de Cannes (@Festival_Cannes) 11 mai 2016
Cannes is abuzz as the 12-day festival kicks off. Considerered the event in the film calendar, a number of big names in the industry make up the nine-member panel, presided over by George Miller. And on Sunday 22, the five men and four women will award the 69th Festival's top prizes.
Start @Festival_Cannes#FestivalCannes#WoodyAllen#BlakeLively#KristenStewart more @euronews and @euronewspic.twitter.com/L3pHItD7ck

— fred ponsard (@fredponsard) May 11, 2016
Director Woody Allen, a Cannes veteran, will open the show, with a screening of his romantic drama, Café Society.
#Cannes2016#KristenStewart#JesseEisenberg et #BlakeLively à la conf. de presse de #CaféSociety de #WoodyAllenpic.twitter.com/jXVRJQWV34

— Emmanuel Cirodde (@MelCirodde_P2V) 11 mai 2016