Broadcasters show footage of HM The Queen's "diplomatic gaffe"
Comments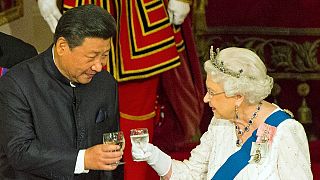 HM The Queen caught on camera
Describes Chinese officials as "very rude"
Second high-level diplomatic gaffe this week in UK
What has happened?
The Queen has become the second high-profile British figure to be overheard making a diplomatic gaffe.
"They were very rude to the ambassador"
Footage has emerged of Her Majesty describing Chinese officials as "very rude" during last year's state visit by President Xi Jinping.
Where did this happen?
At a Buckingham Palace garden party on Tuesday.
Who was the Queen talking to?
Watch the Queen's unguarded comments about China, whilst speaking to a Met Police commander on Tuesday …https://t.co/OJPALAmCUB

—

ITN

Source News (@itnsourcenews) May 11, 2016
Metropolitan Police Commander Lucy D'Orsi.
She oversaw security for the Chinese leader's visit and described it as a "testing time".
"They were very rude to the ambassador," the monarch replied.
Has Buckingham Palace said anything?
Yes.
The Queen Elizabeth and Chinese President Xi Jinping, 2015 pic.twitter.com/PFnFqJJDVG
.
(ง •̀。•́)/… jamás olvides esto
OCTUBRE 2015

— Euvino Fire (@Euvinofire) November 9, 2015
The Chinese state visit was "extremely successful".
The Palace says it never comments on the Queen's private conversations.
Does the Queen often make political comments?
Publicly, no. It is unheard of.
Under the terms of her constitutional role, the 90-year-old monarch never makes any politically or diplomatically sensitive comments in public.
It is also rare for the contents of her private conversations to be revealed.
What happened to David Cameron?
How to make friends: David Cameron tells The Queen #Nigeria & #Afghanistan probably world's 2 most corrupt countries https://t.co/EfXMFDA5cY

— Jon Williams (@WilliamsJon) May 10, 2016
Her Majesty's comments came on the same day Prime Minister David Cameron was overheard describing Nigeria and Afghanistan as "fantastically corrupt".
His comments are seen as particularly untimely.
He is hosting both countries' leaders at an anti-corruption conference in London this Thursday.