Australian police foil alleged ISIL boat plot
Comments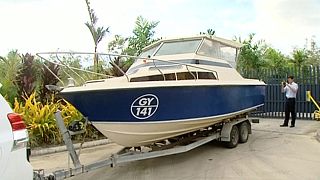 Police in Australia have arrested five men suspected of trying to sail a small boat from North Queensland in a bid to eventually ending up in Syria to join ISIL.
They were detained in the Northern city of Cairns on Tuesday after allegedly towing the boat nearly 3000 kilometres from Melbourne.
Police say they planned to travel to Indonesia and the Philippines, then on to Syria.
Victoria State Police Deputy Commissioner Shane Patton said: "I want it to be perfectly clear, this is a serious attempt by five men, who are of security interest to us, who have had their passports cancelled in attempting to exit Australia so that they can make their way through boat, and then ultimately we're investigating the intention to possibly end up in Syria to fight."
Aged between 21 and 33, one of the five men is reported to be a notorious Islamic preacher.
It is believed the group have not yet been charged, but under tough new security powers passed in 2014, could face up to a decade in prison for trying to travel to areas declared off limits.