Russia gives heroes welcome to Cuban spies
Comments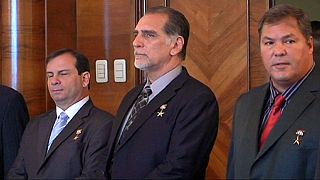 Russia has given five Cuban spies a heroes welcome in Moscow. The men were guests of honour after the Victory Day parade in the capital.
Known as 'The Cuban Five', they were recently released by the US after 15 years in prison for espionage, as part of the thawing of relations between the former Cold War foes.
The Kremlin was keen to emphasise its role in their release.
"As you know, Russia from day one stood in solidarity with the international campaign in your support, for your liberation and your return to your motherland," explained Foreign Minister Sergei Lavrov. "We had been consistently pressing (for your release), including in our contacts with the Americans, and we are glad that in the long run our participation in your release turned out to be useful and yielded results."
The men were convicted of spying on Cuban exiles in Florida at a time when anti-Castro extremists were behind a spate of bombings in Havana aimed at destablising the government.
The spies were named 'Heroes of the Republic' by President Raul Castro, the country's highest honour.
The same day the five were released, Havana freed American aid worker Alan Gross as a humanitarian gesture after being held for five years for bringing banned telecomms equipment to Cuba.