Russia and Ukraine mark Victory Day
Comments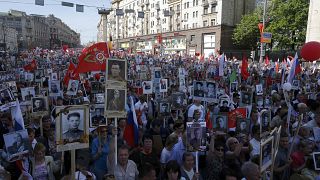 Russian President Vladimir Putin has led celebrations in Moscow to mark the 71st anniversary of victory over Nazi Germany in World War two.
Holding a portrait of his war veteran father in Red Square he was one of just thousands of people to take part in parades across Russia on Monday.
There was no shortage of military might on show in Russian capital either. Troops, tanks and Russia's latest missile defence technology were all on display.
Russia's most important secular holiday pays homage to the huge sacrifices and suffering the nation went through during the war.
An estimated 27 million soldiers and civilians from across the former Soviet Union perished in the conflict and Ukraine saw similar commemorations to honour its war dead.
In Kiev, Ukrainian President Petro Poroshenko laid a bouquet of symbolic red flowers at the tomb of the unknown solider.
Last year Ukraine joined other European countries to mark remembrance day on May 8th but has also kept place the traditional May 9th victory celebration.