Reprieve for Rousseff? Probably not...
Comments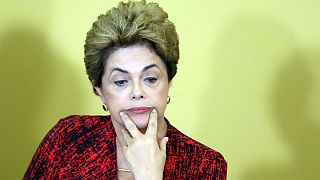 Dilma Rousseff lives to lead another day… For now.
The impeachment process against the President of Brazil has been suspended by the acting speaker of the lower house of Congress.
Rousseff's supporters may not be smiling for long. The Senate has reportedly opted to move forward with a vote to decide whether or not to prosecute the leader, effectively ignoring Speaker Waldir Maranhão's decision.
The president is accused of doctoring Brazil's fiscal accounts to hide a massive budget deficit ahead of her 2014 re-election.
The Senate was due to hold a ballot on her potential prosecution on Wednesday (May 11).
Maranhão cited procedural flaws as the main reason for halting proceedings. If his wishes are carried out, the process will be returned from the Senate back to the lower house, or Chamber of Deputies.
Rousseff reacted cautiously to the news she may have a reprieve.
"I found out now, in the same way that you all found out, it came up on everyone's mobile phones here.
"I do not know what the consequences will be. Please be cautious, we are living in a web of tricks," she warned.
Just hours after Maranhão's announcement, one opposition party called for the Supreme Court to quash the decision, while Senator and opposition leader, Aecio Neves, appealed to the Senate to stick to a plan to vote on Rousseff's trial this week; a plan the President of the Senate appears determined to go ahead with.