Change in weather helps fight Canada wildfire
Comments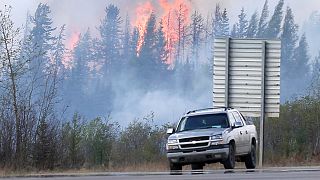 Authorities in Canada say they are beginning to get a devastating wildfire under control.
The blaze in Alberta province has been burning for a week and is being described as the most destructive in recent memory. It was fuelled by warm weather and high winds, but now light rains and cooler temperatures are helping hold it back.
Senior Wildfire Manager, Chad Morrison, told reporters he was happy to finally have some good news. "With a little help from Mother Nature and a bit of a break in the weather, and really credit to all the hard work of the firefighters, we were able to hold most of the line in Fort McMurray yesterday", he said.
The town of Fort McMurray is at the centre of Canada's oil sands industry, containing vast oil reserves.
Its 88,000 residents have had to flee the fire. Many are now staying in emergency centres.
Alberta Premier, Rachel Notley, had to hold back tears at times when the bittersweet Mothers Day many were experiencing.
"This is Mother`s Day. I`m hoping, in all of this crisis, to spend a few minutes today with my own children. That not all of us can do that is definitely an awful tragedy."
Authorities say that although they are starting to contain the wildfire, they could still be fighting the flames for months.