Canada: firefighters optimistic cooler temperatures will help battle blazing inferno
Comments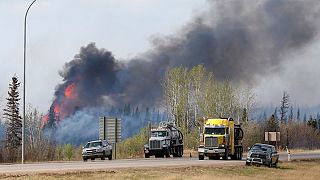 Firefighters in Canada are hoping recent light rains and cooler temperatures will help them battle the wildfire that has been raging for more than a week.
Around a fifth of homes have been destroyed and more than 100,000 local residents forced to flee from Fort McMurray and the surrounding area.
Alberta is under a state of emergency and air quality warnings are in place in neighbouring Saskatchewan and the Northwest Territories.
Heat Fuels Fire at Fort McMurray https://t.co/Ag3gxQ1plW#NASApic.twitter.com/LyUIgceL8U

— NASA Earth (@NASAEarth) May 7, 2016
NASA satellites captured images of the inferno, which is blazing just south of a number of the region's oil refineries.
.@NASANPP sees massive Fort McMurray, Alberta wildfire day & night: https://t.co/voe0OJcpD2#ABFire#YMMFirepic.twitter.com/BHUeRcFRaj

— NASA (@NASA) May 5, 2016
It is not clear how the fire started. It spread rapidly at first but grew at a slower pace than expected over the weekend.
Oil jumps on Canada wildfire outages: https://t.co/y3gH5k3YCHpic.twitter.com/8ftSczlGGz

— Reuters Business (@ReutersBiz) May 9, 2016
Fuelled by hot weather and tinder dry ground, the blaze now covers more than 1,600 sq km of Alberta.
On Sunday (May 8), firefighters spoke of being able to get a "death grip" on the blaze. But, despite their optimism, the longer-term outlook is bleak.
Canada wildfire 'could burn for months' without rainfall – officials https://t.co/Dhc6YRRj5opic.twitter.com/MpUyvn2gFZ

— euronews (@euronews) May 8, 2016
Thousands were forced to spend Mother's Day in temporary shelters and local MP David Yurdiga told the media it could be years before Fort McMurray is fully operational again.
Wildfire's advance in western Canada slowing down, oil town Fort McMurray off limits https://t.co/oxWLvfEOu8pic.twitter.com/ld9AEL0PJr

— China Xinhua News (@XHNews) May 9, 2016
Smoke covering a vast area in @Canada. Our hearts go out to all those affected by the fires there. @Space_Stationpic.twitter.com/trwKlPV8O7

— Tim Kopra (@astro_tim) May 8, 2016