Journalists freed in Syria return home to Spain
Comments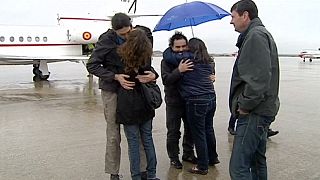 Three Spanish freelance journalists who were kidnapped in Syria last July have returned home on Sunday after being released.
On Saturday it was reported that they were in Turkey waiting to be flown home.
The three – Antonio Pampliega, Jose Manuel Lopez and Angel Sastre – went missing in the northern city of Aleppo while working on an investigative report.
It is not clear which group held them but some Spanish media say it was al Qaeda's Syrian wing the al-Nusra Front, which is designated by the United Nations and United States as a terrorist organisation.
According to Spain's El Pais newspaper, the three had entered Syria two days before they were captured and were in an area under the control of al-Nusra.
BREAKING: Three Spanish journalists kidnapped 10 months ago in Syria freed https://t.co/lced24gfRR

— El País in English (@elpaisinenglish) 7 May 2016