Israel PM Netanyahu rebukes deputy military chief over Holocaust speech
Comments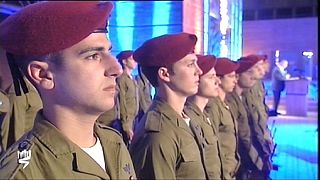 Israeli Prime Minister Benjamin Netanyahu has slammed his deputy military chief for suggesting that the country was showing signs of Nazi-esque behaviour.
The dressing down comes after Major-General Yair Golan said on the eve of the annual Holocaust Day that he saw signs in Israeli society of 'nauseating processes' that occurred in 1930s Germany.
The quote in full
If there's something that frightens me about Holocaust remembrance it's the recognition of the nauseating processes that occurred in Europe in general, and particularly in Germany, back then - 70, 80 and 90 years ago - and finding signs of them here among us today in 2016.
Netanyahu responded by saying the comments were 'outrageous' adding that "they do injustice to Israeli society and cause a belittling of the Holocaust."
There was no word on the general's future but some in the cabinet have called for him to resign.
It comes at a time of heightened tensions between Israelis and Palestinians with a wave of violence which has left 29 Israeli citizens and 200 Palestinians, many of them attackers, dead.