Gviniashvili and Nyman prevail at the Baku Grand Slam
Comments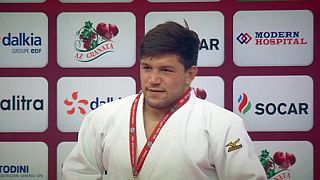 President of Azerbaijan Judo Federation Rovnag Abdullayev awarded a well deserved gold medal to Beka Gviniashvili for his flawless performance in the under 100 kilo category at the Baku Grand Slam. The Georgian sensation looked in great shape and outclassed Hungary's Miklos Cirjenics in the final thanks to a perfectly executed ippon, sending out a strong message to his future opponents.
The bronze medals were won by Germany's Dimitri Peters and Aaron Wolf of Japan.
In the under 90 kilo class, Marcus Nyman stunned Serbia's Aleksandar Kukolj. After a relatively slow start to the bout, the Swedish judoka stepped it up a gear and won with a well taken osai komi, giving him a major boost ahead of the upcoming Olympic Games in Rio.
Lakiv Khammo kept his composure to beat Dutch rival Roy Meyer in the over 100 kilo final. Judo fans were left on the edge of their seats as the winner had to be decided by Golden Score. The Ukrainian won the battle of nerves thanks to a clinical waza-ari in the seventh minute.
In the women's event, Guusje Steenhuis reigned supreme in the under 78 kilo category. The Dutch judoka triumphed after her compatriot Marhinde Verkerk was forced to abandon due to injury in the showpiece match.
The bronze medals were shared by Luise Malzahn and Mami Umeki.
In the over 78 kilo category, Kanae Yamabe outclassed Nihel Cheik Rouhou in the semi-finals and was ready to carry her momentum into the showpiece match but there was no need as she eventually triumphed over Chinese World Champion Song Yu by walkover.
Our euronews correspondent Pedro Lasuén was in Azerbaijan as yet another pulsating Judo competition drew to a close.
Pedro Lasuén, euronews: "His name is Karl Richard Frey and he is the top seed here in Baku. The move of the day as well as the surprise of the day were both provided by the German sensation, who achieved the feat in just four hours."
Move of the day
Karl Richard Frey got off to a great start and looked set to go all the way after a great performance in his first fight. The 24-year-old disposed of New Zealand's Jason Koster with a superb ippon after 2 minutes and 21 seconds. Chingiz Mamedov was up next and suffered the same fate after 2 minutes and 28 seconds.
Surprise
Complacency might have set in during the third fight as Karl Richard Frey lost his focus at the halfway stage. Miklos Cirjenics made the most of a defensive error to secure a surprising win. The Hungarian went on to beat Adlan Bisultanov in the semis before failing to deliver against the experienced Gviniashvili.
Watch the top 8 athletes at #JudoBaku2016https://t.co/GO0WnKtnr2 The best of the Grand Slam in Baku. pic.twitter.com/9TAwFgA5og

— JudoInside.com (@JudoInside) 6 May 2016