Sufi Muslim leader is hacked to death in Bangladesh
Comments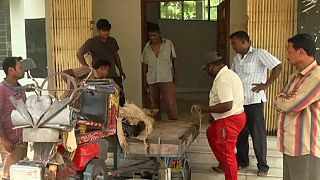 A Sufi Muslim leader has been hacked to death in Bangladesh in what may be another attack by Islamist militants there.
The remains of Mohammad Shahidullah, 65, were found in a pool of blood in a mango grove in the same northwestern district of Rajshahi, where ISIL said it killed a professor last month.
Also last month, a group affiliated to al Qaeda claimed responsibility for killing a Bangladeshi gay rights campaigner and his friend in the capital Dhaka.
The Bangladeshi government denies that so-called Islamic State or al Qaeda have a presence in the country. Police say home-grown militants are behind the attacks.
Islamist extremists in Bangladesh have targeted atheist bloggers, academics, religious minorities and foreign aid workers in a series of killings that dates back to February 2015 and has claimed at least 20 lives.