Nagase and Schlesinger strike gold in Baku
Comments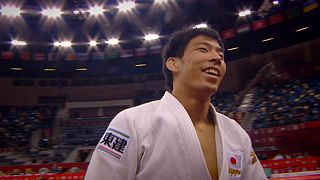 Pedro Lasuén, euronews: "The second day of the Baku Grand Slam was spectacular, emotional and full of surprises… judo at its best! Let's start with a thrilling final between a Japanese world champion and a Bulgarian star in the making."
The Art of Judo
Takanori Nagase kept his composure to down Ivaylo Ivanov in the under 81 kilo final. The World number 3 got off to a strong start and put his opponent under immediate pressure, eventually sealing the win with a clinical ippon.
In the under 73 kilo category, Uzbekistan's Mirali Sharipov outclassed Hungary's Miklos Ungvari in the semi-final and carried his momentum into the showpiece match. The Minsk European Open bronze medallist overcame an early waza-ari to beat fellow countryman Giyosjon Boboyev with a well taken ippon in the dying moments of the bout.
President of the International Judo Federation Marius Vizer awarded a deserved gold medal to Alice Schlesinger as the British national anthem rang out at the Heydar Aliyev Sports and Exhibition Complex in Baku.
The 27-year-old reigned supreme in the under 63 kilo class as she stunned the experienced Yarden Gerbi before beating by ippon Marijana Miskovic Hasanbegovic of Croatia in the final.
Baku gold for Alice Schlesinger https://t.co/4pe5N9uObS#WeAreGBJudo#JudoBaku2016#EveryRoadToRiopic.twitter.com/1dgqnKiUc2

— #WeAreGBJudo (@BritishJudo) 7 May 2016
The Spanish national anthem 'The Royal March' was also played as María Bernabeu struck gold in the under 70 kilo category.
The 28-year-old, who was bidding to become the second Spaniard ever to win a Grand Slam, proved too strong for Maria Portela of Brazil in the final as she triumphed by ippon thanks to a perfect sankaku technique.
The bronze medals were won by Maria Perez and Elvismar Rodriguez.
Surprise
The surprise of the second day's action in Baku came from Dmytro Kanivets.
The Ukrainian judoka stunned local favourite Rustam Orujov with a delightful ippon which momentarily silenced the crowd.
Move of the day
The move of the day was provided by Takanori Nagase and it came during his third fight of the preliminary round.
The Japanese downed Carlos Luz of Portugal by ippon after 1 minute and 19 seconds of the contest.
Watch the top 8 athletes at #JudoBaku2016https://t.co/GO0WnKtnr2 The best of the Grand Slam in Baku. pic.twitter.com/9TAwFgA5og

— JudoInside.com (@JudoInside) 6 May 2016