Italy: protest turns violent over Austria's border fence plans
Comments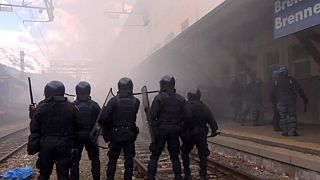 A protest against Austria's move to tighten border controls has turned violent, as scores of activists clashed with Italian police who blocked their approach to the Austrian border.
The demo, which included peaceful protesters, comes after Vienna unveiled plans to build a fence at the border citing concerns that migrants will attempt to enter northern Europe via Italy.
Protesters attempting to occupy the train station at the Alpine Brenner pass were confronted by riot police, briefly blocking traffic along the busy route. A small group of activists threw bricks and firecrackers at police who responded with tear gas. Italian news agency ANSA reported that 20 protesters were detained and four officers were injured.
The move to block the border has also drawn criticism from the Italian prime minister who called it 'dangerous'.