Second successful sea landing for SpaceX
Comments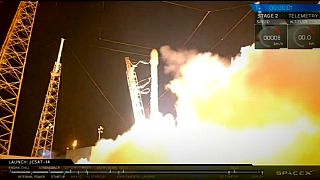 An unmanned SpaceX Falcon 9 rocket has made a swift and successful return trip into orbit, a live webcast showed.
It blasted off from Florida on Friday (May 6) to put a communications satellite into orbit, then quickly turned around to make a landing on an ocean platform.
Launch photos here → https://t.co/vn4S8bV3x3pic.twitter.com/qPtXMlVNkt

— SpaceX (@SpaceX) May 6, 2016
The voyage was SpaceX founder Elon Musk's second successful sea landing.
Woohoo!! https://t.co/0P8n8VmFbr

— Elon Musk (@elonmusk) May 6, 2016